Lets just put the Dry flow numbers aside and look at wet patterns. Looking at this port design How... and Why is this vane behind the guide.. angling toward the cylinder wall??? Today I spent sometime studying wet flow patterns of this new port and found area's similar to other heads in the market place but this vane or what I like to call " Deflector Block " angling the air stream toward the cylinder . ( Note: AMC had a very similar port in there V8 way back ) The area around the vane toward the seat had a huge amount of activity......Good. When you look at this PIC keep in mind this separation of air and fuel in the region is common with alot of 23 degree heads.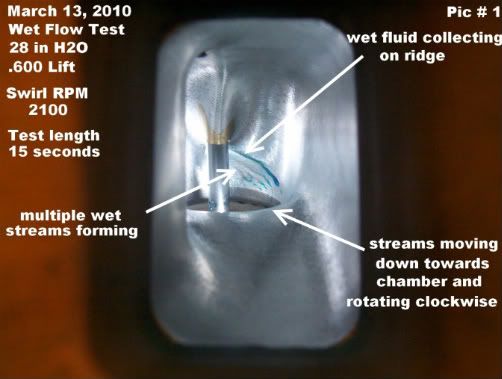 View from manifold side with 2 inch thick entry plate.
Here is the pic from the chamber side note the major air streams!! Three to be consistent , with stream # 1 following the chamber side of seat, not in the port side under the seat. The seat velocity is high in the .200 to .350 exhibiting turbulence, but the dry number is high .200-152.4 cfm , .300-216.3 cfm , with a venturi of 92%. If anybody has pics of burn patterns of this new head I would be very interested to see actual Burn VS Wet testing.
John