Not quite Engine Tech, did anyone ever found good results with a change in interior noise-levels by changing exhaust hangers to a softer material or different/modern design?
I'm running a full 2.5" dual system in a '73 Dart with an X-pipe, Borla ProST (street) mufflers and tailpipes.
360ci engine w/11.3:1 cr, very mild street cam.
I'm OK with the sound of the exhaust on the outside but the interior noise level at around 2k rpm when accelerating is just too much, so I like to dampen the noise coming into the cabin.
Already installed self-adhesive heavy rubber antidrone sheets under the rear seat and floorboards, fabbed a stock-style cardboard w/soft dense foambarrier to block trunk-noise but this didn't appear to help much, if any.
I'm thinking the current exhaust hangers just transmit too much exhaust noise and vibration into the cabin, also because they are mounted to the floorboards (at the rear seatbelt mounts);
Currently using these just right after the mufflers and are connected to the reinforced area where the seatbelt-bolts normally would reside.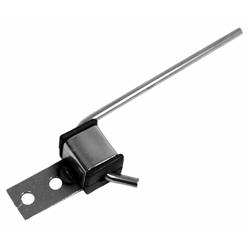 Thinking of using a different type of hanger with a softer/larger rubber in between, and also mount it on the frame rails instead of floorboard, which I think would be the culprit.