Here are some pics and info about the 360ci engine I recently put together.
The engine will a replacement for the stockish 318ci in my daily driven propane-powered '73 Dodge Dart.
The 318 has a wimpy 8.6:1 compression ratio. Not bad for put-putting around and while I managed to get some decent power out of it, it's still no tyre-frier.
Goal with the freshly build 360 is to increase torque, efficiency and hopefully as a result, fuel-economy as well, as the current setup only gets me 10-12mpg.
The 360 had been run shortly before I bought it, but a scored bearing & crank issue made it seize up for the previous owner.
I rebuilt the engine with new bearings, new cam and located a freshly located .010" crankshaft.
Engine specs:
– 360ci +0.030″ overbore.
– Stock rotating assembly except for .030″ KB zero-deck pistons. Fully balanced.
– Iron heads, '302' casting (closed chamber). milled to get 60-61cc chambers.
– Valves have been backcut and polished.
– Smoothed/polished Edelbrock Performer intake, w/ blocked heatriser ports.
- Gasketmatching.
– Tight piston-to-head quench-clearance of 0.025-0.030″.
– Intended rpm-range: 600-3000rpm. Max. rpm around 5000-6000 rpm.
– Fuel is Propane/LPG (±104 octane).
– CompCams Extreme Energy XE256H, used with 1.6 ratio rockers.
During the build I found the KB-piston ring gaps where too tight, so I corrected them to .0025".
Did a number of other mods on the engine like;
- backcutting and polishing the valves,
- enlarging oil passages in the block,
- modify truck oilpickup to center-pan pickup,
- welded oilcontrol baffle in oilpan,
- modified/installed windage tray from other 360 engine.
- improved oil-transition channel between rear main-cap and oilpump.
- milled heads to 60cc head chamber.
The Mopar '302' heads are the Mopar '302'-casting swirl-port heads.
I gasketmatched and smoothed the runners and polished the chambers, along with some minor contouring of the swirl area.
The camshaft is a CompCams XE256H.
256° In / 268° Ex dur. @ .050"
With 1.6 rockers this will give resp. .4768/.4848" lift.
Lob.sep 110 - ICL 106
With the 11.3cr, this will give a DCR of 8.6:1.
Cam-card;
https://www.bigblockmopar.nl/wp-content ... amCard.jpg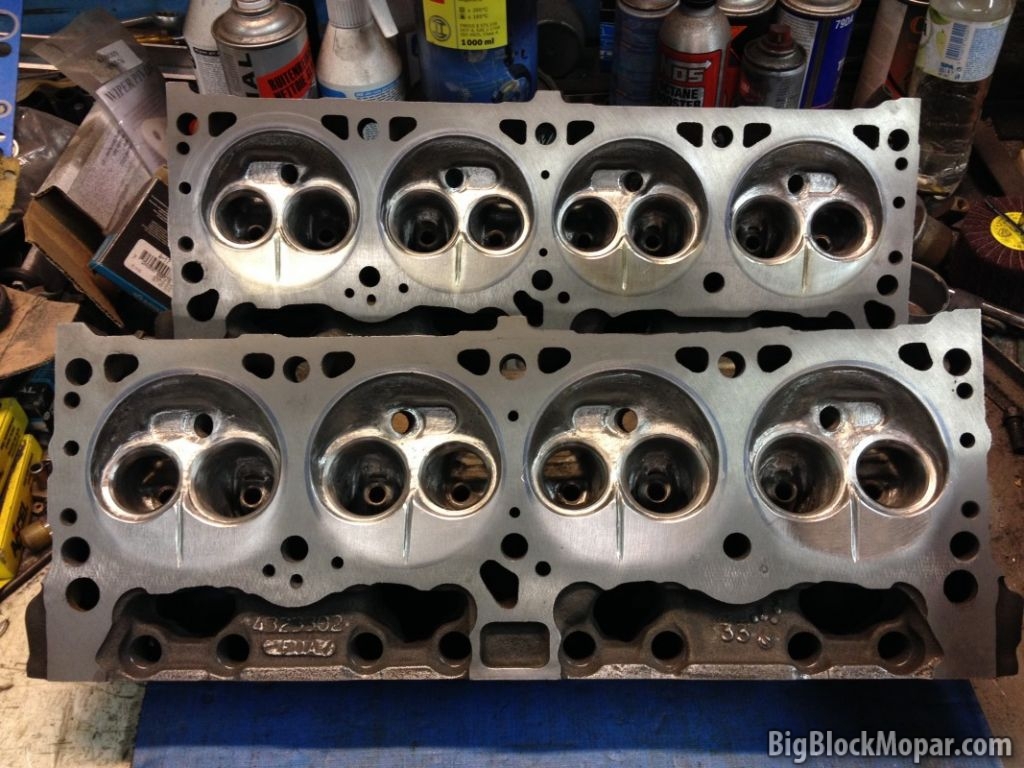 To break-in the new cam I decided to built an engine-stand as well. Something I wanted to do a long time ago already, but it finally happened.
At the day of the engine's first start-up, I bought 5 gallon of 102 octane pumpgas to prevent any form of detonation.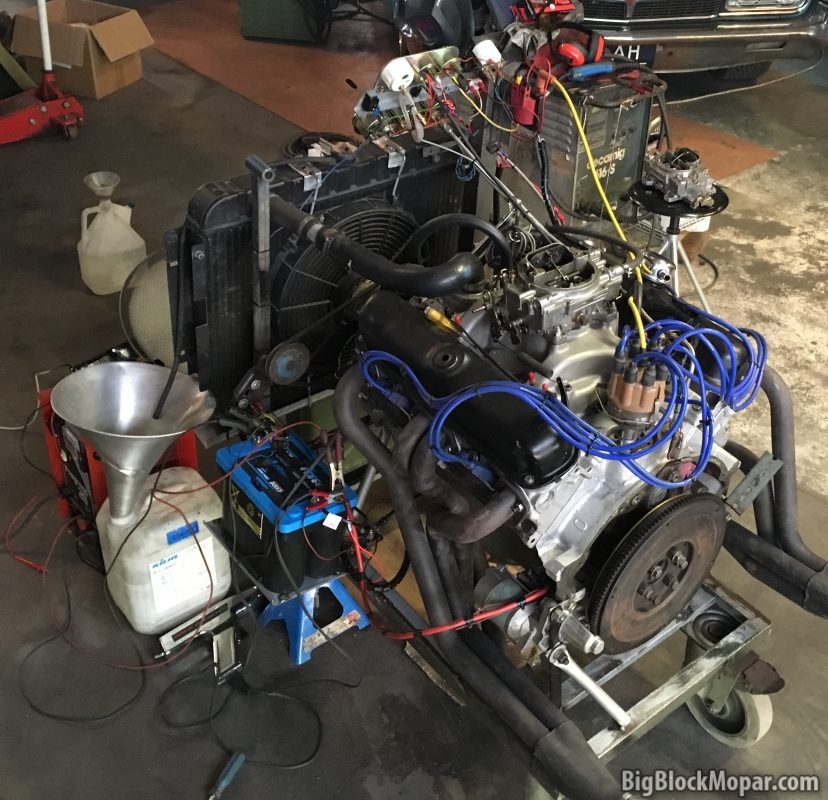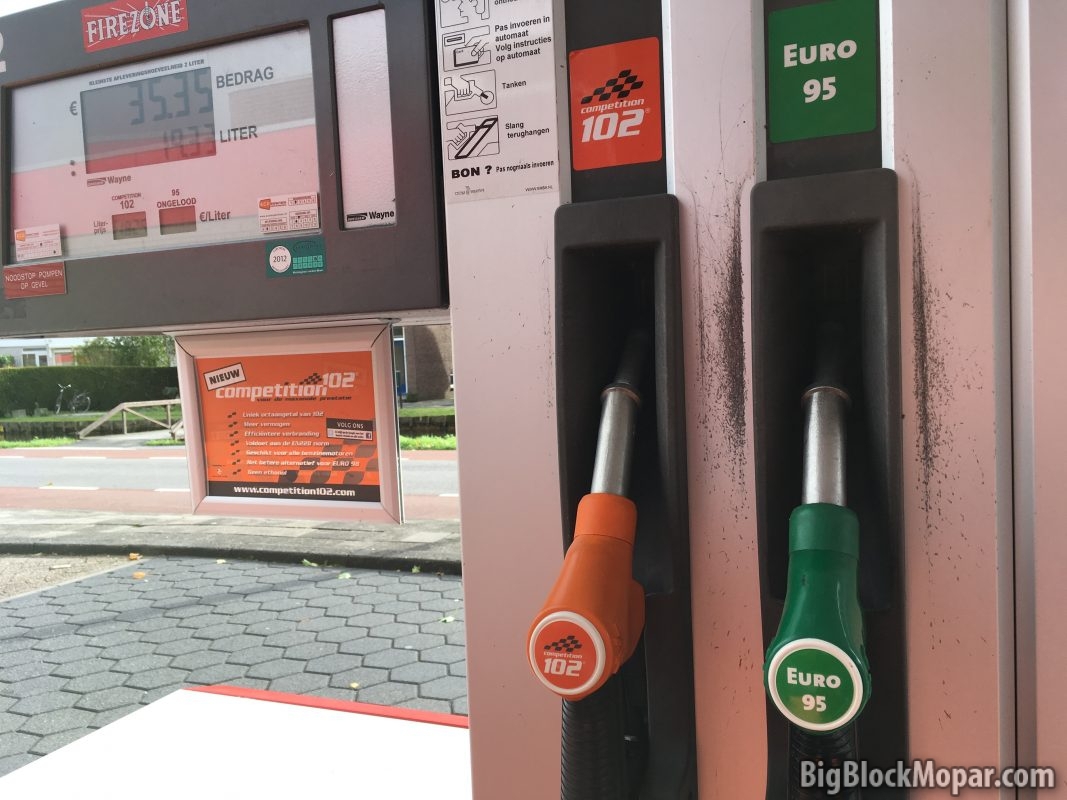 The engine break-in went fairly smoothly, aside from the engine getting hot, and one lifter failing to pump up
So I had to stop and go ahead with the break-in after a short cool down period.
After running the engine with a different carb and distributor with quicker timing curve the engine ran pretty cool.